Uscirà in sala il 17 agosto Don't look at the demon, film horror diretto da Brando Lee, ispirato a veri rituali religiosi proibiti
Uscirà nelle sale cinematografiche italiane dal prossimo 17 agosto, distribuito da 102 Distribution, Don't look at the demon, il nuovo film horror di Brando Lee ispirato a veri rituali religiosi proibiti.
Prodotto dalla Barnstorm di Brando Lee e Danny Saphire, Don't loook at the demon è scritto da Alfie Palermo, mentre i produttori esecutivi sono Stanley Ling, Matthew Kavaunaugh, David S Sobieraj, Sridhar Sreekakula e Timothy Linh Bui.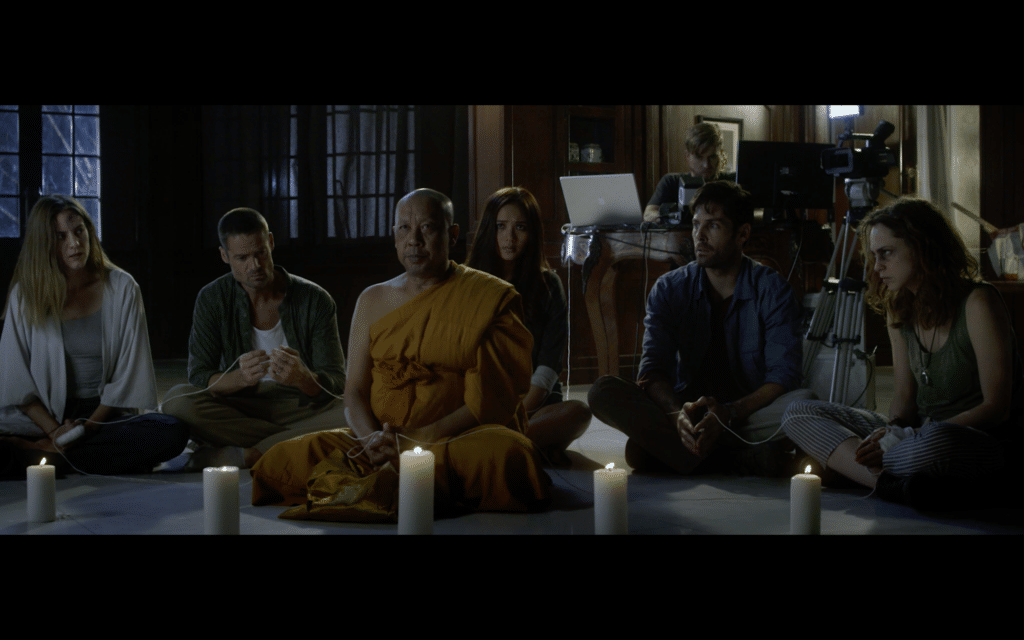 Sinossi di Don't look at the demon
Jules è una medium spirituale, in uno stato di debolezza emotiva, e fa parte di una squadra americana di investigatori televisivi sul paranormale. Insieme alla sua troupe televisiva si reca in Malesia, a Fraser's Hill, all'interno di una casa che si ritiene infestata, per raccogliere prove.
Ben presto scoprirà che la pericolosa entità che abita la casa potrebbe avere un legame con il suo misterioso passato. Gli ultimi proprietari della casa, Ian e Martha, affermano di aver sperimentato strani disturbi.
All'inizio, le affermazioni della coppia sembrano contraddittorie e la squadra investigativa sospetta che i due siano solo in cerca di pubblicità, ma Jules subisce presto una orribile esperienza nel seminterrato, che porta tutti a credere che ci sia qualcosa di terribile e di vero in quella casa.
Man mano che la squadra si addentra nel mistero, tutti si imbattono in possessioni e apparizioni più terrificanti, peggiori di quanto mai sperimentato nelle precedenti investigazioni. Jules, che ha avuto un incontro soprannaturale da bambina, sembra essere l'unica in grado di affrontare la situazione.
Il Cast
Nel cast del film troviamo Fiona Dourif (Chuckie, The Blacklist, Shameless), Harris Dickinson (Where the Crawdads Sing, Triangle of Sadness, The King's Man), Jordan Belfi, Ashlyn Boots, Malin Crépin, Jessie Franks, Konglar Kanchanahoti, William Miller, Thao Nhu Phan e Randy Wayne.
Il Regista
Il regista Brando Lee è cresciuto nella periferia di Kula Lumpur e si è nutrito di film hollywoodiani come Lo squalo, L'esorcista e Guerre stellari. Ha studiato al Columbia College di Hollywood specializzandosi in Cinema e TV e ha lavorato per diverse produzioni mentre viveva a Los Angeles.
Ha creato i Brando Studios B&L CreaLve, che hanno prodotto una serie di progetti televisivi e film distribuiti nelle sale cinematografiche della Malesia. Lee ha anche co-fondato Barnstorm, che ha prodotto Don't look at the demon.
Per rimanere sempre aggiornati su tutte le notizie di serie tv, cinema e gossip continuate a seguirci su Bingy News. Passate anche sulla nostra pagina Facebook, sui nostri profili Instagram e Tik Tok e sulla nostra pagina Twitter. 
Don't look at the demon: L'horror di Brando Lee arriva al cinema dal 17 Agosto Don't look at the demon: L'horror di Brando Lee arriva al cinema dal 17 Agosto Don't look at the demon: L'horror di Brando Lee arriva al cinema dal 17 Agosto
Don't look at the demon: L'horror di Brando Lee arriva al cinema dal 17 Agosto Don't look at the demon: L'horror di Brando Lee arriva al cinema dal 17 Agosto Don't look at the demon: L'horror di Brando Lee arriva al cinema dal 17 Agosto